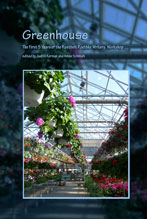 Judith Kerman and Amee Schmidt, eds. (Bay City,MI)
Greenhouse: The First Five Years of the Rustbelt Roethke Writers' Workshop
Poetry. Paper, perfect bound, 78 pp.
$14.95 plus s&h
2008, ISBN 978-0932412-683

The Rustbelt Roethke Writers' Workshop/Retreat was inspired by the work and life of Pulitzer-Prize-winning poet Theodore Roethke (1908-1963), who was born and brought up in Saginaw, Michigan. The Workshop has met each July since 2002, providing experienced writers with a comfortable, egalitarian atmosphere of peer (teacherless) workshops and public readings. This anthology was published during the centennial year of Roethke's birth as part of the year-long Roethke Centennial celebration. It showcases the work of all participants in the first 5 years of workshops. Enjoy the variety of poetry, short fiction, flash-fiction, experimental fiction and creative non-fiction from authors who came from as far as Texas, Massachusetts, New York and the Caribbean to work together in Roethke's home landscape.
Douglas M.Smith, Melody Vassoff and Karen Woollams, eds. - Michigan
In Drought Time: Scenes from Rural and Small Town Life
Poetry/art anthology. Paper, perfect bound, 114 pp
$24.95 plus s&h
2005, ISBN 0-932412-37-8
Poems and artwork concerned with rural and small town life in Michigan. Our first publication with interior color artwork.
One of our best sellers!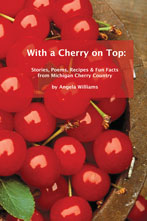 Angela Williams (Michigan)
With a Cherry on Top: Stories, Poems, Recipes & Fun Facts From Michigan Cherry Country
Nonfiction with poetry, fiction, photographs.
Paper, perfect bound, 130 pp
$17.95 plus s&h
2006, ISBN 0-932412-41-6
Cherries are to Northern Michigan what oranges are to Florida! In this highly personal view of Michigan's cherry industry, Angela Williams cooks up a delightful confection of reminiscences, poems, recipes, facts and photos. The book features poetry, memoirs and fiction by Michigan writers Anne-Marie Oomen, Norm Wheeler, Conrad Hilberry, Jackie Bartley, Linda Nemec Foster, Gerry LaFemina, David Sosnowski, Mary Ann Samyn and others.