Even as a young woman promoted by her Spanish husband, Dulce María Loynaz was known primarily to Spanish and Cuban connoisseurs. She almost certainly would not have promoted herself at any point in her life, and yet the poems often seem to be about isolation and to express a hunger for contact and response. Sometimes this seems to be response from a lover, but much of it deals with language and suggests yearning for a responsive audience. When she was interviewed for the Spanish newspaper Diario 16, she told the reporter that the Cervantes Prize was "a secret door into heaven."
The discovery of her work by an large and enthusiastic audience in her home country when she was in her 80's, really for the first time and after more than 25 years of internal exile, must have been like the return of the dove in her poem, "Noah," carrying the green branch that signifies a safe harbor. {Audio Link: Noah}
But those 25 years of silence are still key to our understanding of Dulce María Loynaz as a cultural phenomenon. The Cuban Revolution has become well-known for its contempt for artistic and cultural styles considered "feminine," "homosexual" or "non-Revolutionary." In this context, as the prominent cultural critic and novelist Reynaldo González has noted, Dulce María's self-imposed silence was entirely satisfactory to the government, which had no need to persecute her.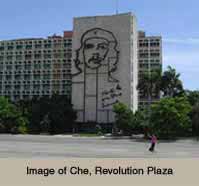 The return of the dove began in the 1980's, when Cuban art and cultural life began to open, permitting alternatives to the officially-approved macho heroics of Socialist Realism. Fantastic, religious, feminine, intimate and playful art began to become permissible again in Cuba. In this new context, Dulce María was rediscovered and rehabilitated, becoming a celebrity in her 80's and 90's.
In a situation such as the Cuba of the past 40 years, it is not surprising that a person as private in temperament as Dulce María Loynaz would seclude herself, or that her public statements have always been extremely discreet, patriotic and yet non-political. More perplexing is the fact that, according to all her closest friends, she entirely stopped writing poetry when the Revolution triumphed in 1959. Although her work was characterized by so many of her friends as a private vocation, perhaps the total disappearance of the social world which fostered it, in addition to the loss of access to her strongest artistic supporter, her husband Pablo Alvarez de Caña, silenced her. Apart from a scattering of academic papers about other writers and a never-completed history of her beautiful El Vedado neighborhood in Havana, begun toward the end of her life, she seems to have stopped writing in 1959.