Dulce María Loynaz was one of the most famous Cuban poets of the 20th Century, winner of the 1992 Cervantes Prize, the highest prize in world-wide Spanish literature.
Her books are available in every bookstore in Cuba, as well as in Spain and other Spanish-speaking countries. Biennial conferences about her work and life are held in Havana and Pinar del Rio, Cuba, and celebrations of the centennial of her birth were held in the United States and Spain as well.
However, she is largely unknown in the English-speaking world, and until recently there were few English-translations of her poems.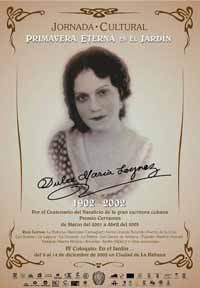 Poster celebrating Centennial of Loynaz's birth, 2002.
This site offers you the chance to learn about Dulce María Loynaz, her life and
works, and her place in Cuban society. The site includes the following features:
Sample poems which can be read and heard in English, linked to the Spanish
originals (text and audio) on the VirtualCervantes site in Spain.
Videos of interviews with the poet with English translations in voiceover. The Spanish originals are available on the VirtualCervantes site.
Audio interviews with Cuban friends and associates of the poet, discussing her
life and her significance in Cuban literature (in English, with translations during the interview, or voiceover.)
The materials for this site were originally developed for a radio program, "Dulce María Loynaz. A Woman in her Garden, a 2-hour documentary of the life, times and work of the great Cuban poet Dulce María Loynaz ," written and taped on location by Judith Kerman, produced by Judith Kerman and Mark Domsic, and broadcast on WUCX-FM, 90.1 Delta Quality Public Radio in Bay County, Michigan, in April 2000.
A short documentary, "Dateline Havana," about the Cuban celebration of the centennial of Dulce María's birth, was broadcast on WCMU-FM, 89.5 in Mt. Pleasant, Michigan, in March 2002. {Audio Link: Dateline Havana}